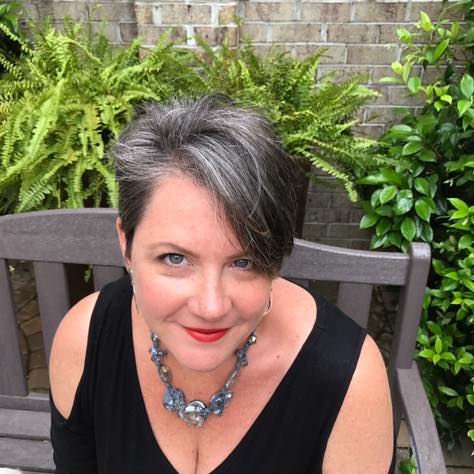 I believe our life and work experiences, values, education, and relationships shape who we are. Just like beach glass, after the toss and tumble of life, we aren't left in the tide quite how we entered the water, and no two of us are alike. My unique past shaped and polished who I am and made me a perfect fit for my ideal clients. To learn a little bit more about who I am and how I got this way, read more below.

• Learning is vital. I keep a list. I'm checking off both hard and soft skills. I'm investing in myself to bring more joy into my life, and more of my life to the world around me. I cannot ever know it all, but I love the satisfaction and growth that comes with bettering myself a little every month.
• I am a relationship girl. My passion is forging relationships with my clients. Equal partnerships where we work together on the tasks, milestones, and goals at hand. Loyalty. Trust begets synergy. Synergy begets fruition. Big things come from great relationships.
• I fell in love with my Macbook Pro. I used to boot both ways – both Microsoft Windows and Apple – until recently. While I still have access to a Windows machine, I have shifted my entire practice to utilize Apple products. I use Office 365 and run 2016, so I  am able to work with clients in either operating system, depending on their needs. I am working toward adding an iMac to my business and am excited to see that come to fruition.
• I worked 'out there' for 20 years before starting my practice. I bring an old soul and a seasoned-approach to planning and executing. Hospitality is big to me: experiences are paramount.  Products, services, and events we plan together are memorable and rewarding for those they touch.
• Growing and giving back are important to me. I'm an AssistU CMVA (currently one of three), and I am honored to hold several AssistU awards:
2016 AssistU VA of the Year
2015 Community Member of the Year
2014 & 2013 AssistU VA of the Year
2014 Staff Member of the Year (as a mentor in the AssistU Virtual Mentoring Program)
I also lead two internships each year with AssistU graduates. I learn something new each time I come alongside a newbie, and I love seeing the light bulbs go on.
• Our virtual world amazes me.  There are so many ways to share who we are with the people who need us. Helping my client's conquer their content allows them to reach more people across more media, changing lives all over the world. Working on my own, I can only really influence and nurture a few lives. But by supporting my clients, we can exponentially influence, improve, and nurture many lives.
• Planning and processes are big for my clients and me. Big dreams are broken down into attainable milestones.  Processes and systems are created to help with workflow. Interdependence (not dependence) is always a goal. Having some structure and a plan in place is safe.
• I embrace my uniqueness. I believe that admin­is­tra­tive sup­port is as indi­vid­ual as the per­son who seeks it and each part­ner­ship with a client is a col­lab­o­ra­tive reflec­tion of that individuality. We each come together with our gifts, skills, talents, and experiences.  The result is serendipitous.

• Travel is vital. I keep a list. I'm checking off countries and experiences. I'm revisiting places close to my heart. Far and near; with family and solo. There are too many things to see out there in this big, blue world, and I want to experience as much as I can while I am here. I have taken all of the beach photos used on my website during my travels.
• My only child is a fur-baby. He's an English Cream Golden Retriever named Finlay. He has food sensitivities like me, and I help him manage them through a special diet. This is just one of the ways *some* people think he's spoiled. I disagree… I believe we have a pretty equal partnership… his unconditional love is overwhelming, the work I do with and for him is the least I can do.
• I've been called a nurturer… a skilled facilitator, an exemplary planner, real, compassionate, tirelessly detailed, an entertainer, an over-sharer (about me not about you), a people-person, and a family stone. Family traditions like birthdays, anniversaries, and holidays are sacred. I am fond of long-term, true-blue variety friendships, am loving and affectionate, and I want to be loved in return. I have taken one or two personality tests and have a page where you can learn more about my personality type.
• Maintaining my health is important to me. I eat predominantly Paleo, I try to get 8 hours of sleep each night, walk my dog about 2 miles a day, and I am attempting to build a meditation practice.
• I am a patriot. I have been serving on the board of Post 147, Northville's American Legion Auxiliary as Secretary since June 2014 and served as Sargent at Arms since June 2014 – May 2016. As an Auxiliary member, I work to assist and aid the men and women who have served our country in the US Armed Forces. Both of my grandfathers served in WW2 as pilots: my paternal grandfather flew a B-24 and my maternal grandfather, a B-17. My father was a general's aid in the US Army during Vietnam, and my brother has been in the US Navy since 1999, becoming a pilot in 2004. He has deployed to both Iraq and Afghanistan and on countless training missions across the country (and outside our borders). He flies an F-18C Super-Hornet in an adversary squadron (think: Viper in Top Gun). 
Our dog, Finlay, is a Therapy Dogs International certified Emotional Support Therapy Dog and I am his handler at The Freedom Center at Detroit Metro Airport and The Ann Arbor VA Hospital, providing emotional support to active duty and veterans.
I also exercise my 2nd amendment rights as an Amercian and take that responsibility and my training to do so very seriously. I am an NRA-certified Range Safety Instructor and a member of The Well Armed Woman, an organization that works to educate, equip, and empower female gun owners. I work daily to improve and hone my skills. 
• Our virtual, world amazes me. Today, I have a great friend that I met because of an emergency and a virtual connection. I needed to go to urgent care and I was completely alone. I called my business coach, who happened to know someone in my area. She had the woman meet me so I didn't have to be there alone. It was the beginning of an amazing friendship.
• Scratches and dings are just tattoos for Gretta. In, 2006 I saw a Rescue Green Jeep Wrangler Unlimited Rubicon and it went on my vision board. I have been driving her since 2008. Her name is Gretta. She's towed a sailboat from MI to VA, gone camping, been decorated and represented the American Legion Auxiliary in, parades, and carried me through a blizzard or ten. The countdown to topless and door-less begins each year on April 1.
• Faith is my foundation. My identity is in Christ. He is my source, my provider, and my role model for love. I am His heir, His daughter, and I am fully known by Him, and always reach­ing toward grace. Anything I am able to do in my life and in this world is because of Him.

• 0-10: First child of two first children. First Grandchild. Army brat. Lived in 5 states: Georgia, Texas, Michigan, Kentucky, and Illinois.
• 11-20: Competitive swimmer, published writer (you can read some here), studied fashion design in Paris & Lyon, France, and Miss Arlington Heights. Twisted on stage with Chubby Checker. Opened a bridal shop with my family (a business that helped women dress their dreams for 25 years).
• 21-30:  Travelled. A lot. Lake Michigan-race-crewed for my dad and his sailboat for fun. Designed over 200 headpieces and veils, 5 custom wedding gowns, and planned over five weddings (not all were mine).
• 31-40: Became an auntie. Twice. Grew a corporate back office from 5 employees to 55. Took company from paper-based to paperless.  Developed their corporate training program. Learned that God gave me my special gifts and many experiences so that I could bring them to more people. Developed my practice as a Virtual Assistant.
• 41-now: Completed the AssistU training program for world-class virtual

assistants. Earned the AssistU Certified Professional Virtual Assistant (CPVA) designation in 2013, then the AssistU Certified Master Virtual Assistant (CMVA) designation in 2016. There are only four CMVAs as of this writing. The 2015 Community Member of the Year. The 2013, 2014 & 2016 AssistU VA of the Year. Met many amazing people. Moved to the beach. Work with amazing clients. Love my life.

Long Term Intentions/Dreams for Amy Kazor
• Create:  powerful, exceptional experiences for others.
• Thank:  show more thankfulness and forgiveness; gratitude and grace.
• Play:  write poetry, color, journal, and draw.
• Grow:  continue my education as a lifelong learner.
• Nurture:  new VA's through the internship and mentoring programs at AssistU.
• Work:  with five amazing, ideal clients.
• Walk:  my talk; repurpose my content.
• Hone:  my business processes and procedures.