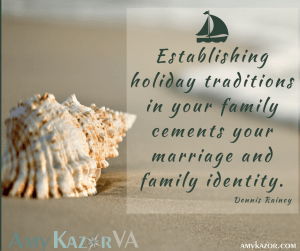 Christmas used to be my favorite holiday. Magic. Wonder. Tinsel. With a birthday 8 days prior, being off of school, and having family all around it always seemed such a magical time of year.
As I have aged, responsibilities and travel have all come into play, and that has shifted. Part was the way things seemed to just change. Part was my inner drive to be Martha, and my failure each year to be Mary (and merry). Part of that was not having anything of our own and trying to keep the traditions of our families of origin alive. Just listening to the melody of "I'll Be Home for Christmas" started to turn my stomach. The issues of handling family expectations overcame the magic and wonder and the where and how we celebrate altered the spirit.
I wanted to rekindle something magical around the holidays, even if it was just for one day. My parents travel out of the country for the holiday and while we are welcome there, it isn't always in the budget to jet off. Chris' parents are just 3 hours away and are at the age where they should be guests, not hosts, which means one of us kids has the celebration at our home. In this family that makes us the hosts every year.
I found myself yearning for something that wasn't tied to either family. A planner at heart, I want to still create an atmosphere of joy, love, nurturing, fun, and maintain the spiritual focus of the holiday. I yearned to move the focus away from gifts and onto experiences. I confronted my memories (some of them were setting expectations a little too high) and began to deal openly, honestly, and prayerfully about my expectations. I shared my concerns with Chris, and we began to talk about how we could reclaim parts of the season and make them our very own.
Then, last year on a lantern-lit journey into a living snow globe filled with live music, skating, fireworks and tons of winter wonder at Greenfield Village, we found the new tradition that would be intimately ours. This week we will celebrate our own little Christmas, together, right there inside our very own little Christmas card from the past. Our new tradition of a date night at Holiday Lights – Greenfield Village. We'll dine at Eagle Tavern surrounded by the golden glow of candlelight, the scent of real roasting chestnuts, the magical sound of carolers in the distance, and the jingle and jangle of sleigh bells.
For me, this Christmas past is how Christmas is supposed to be. It is my idea of a perfect Christmas.
And, then, I am filled-up, recharged, and ready for the reality of Christmas present.
And, this year we add another new tradition to the mix. We are keeping it simple. In the past I knocked myself out with food and preparation and landed on 12.26 resentful, hurt, and angry. This year, we worked with one of our favorite restaurants to have all the food prepared. I will pick it up on Christmas  Eve, and heat it all through Christmas day. I won't be in the kitchen for hours and fall into bed with a backache, headache, and heartache on Christmas night. Ultimately, love is all that is necessary… not who prepared the meal, so I am thrilled to be beginning a new tradition in which I can relax and enjoy along with everyone else.
I receive the gift of a warm, intimate, joyful evening alone with my husband, the gift of Christmas past and simpler times, and the gift of the magic, the wonder, and the tinsel. Then I will give the gift of presence, love, joy, and being Mary (and merry) on Christmas by accepting help and releasing the need to do it all, and enjoy what comes. I am grateful to be establishing new holiday traditions in our family and taking the steps to cement our marriage and identity as a couple.
What traditions are you building this year?