I am reading Lisa Bevere's book, Girls With Swords right now and it is having a powerful impact on my life. I have included affiliate links for the books in this post, but you can easily bypass my affiliate links by searching for the titles on Amazon if that serves you.
"If you don't have a sword, sell your cloak and buy one!" — Jesus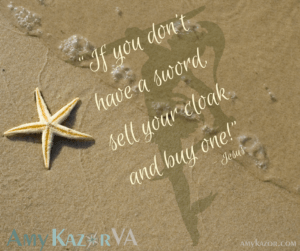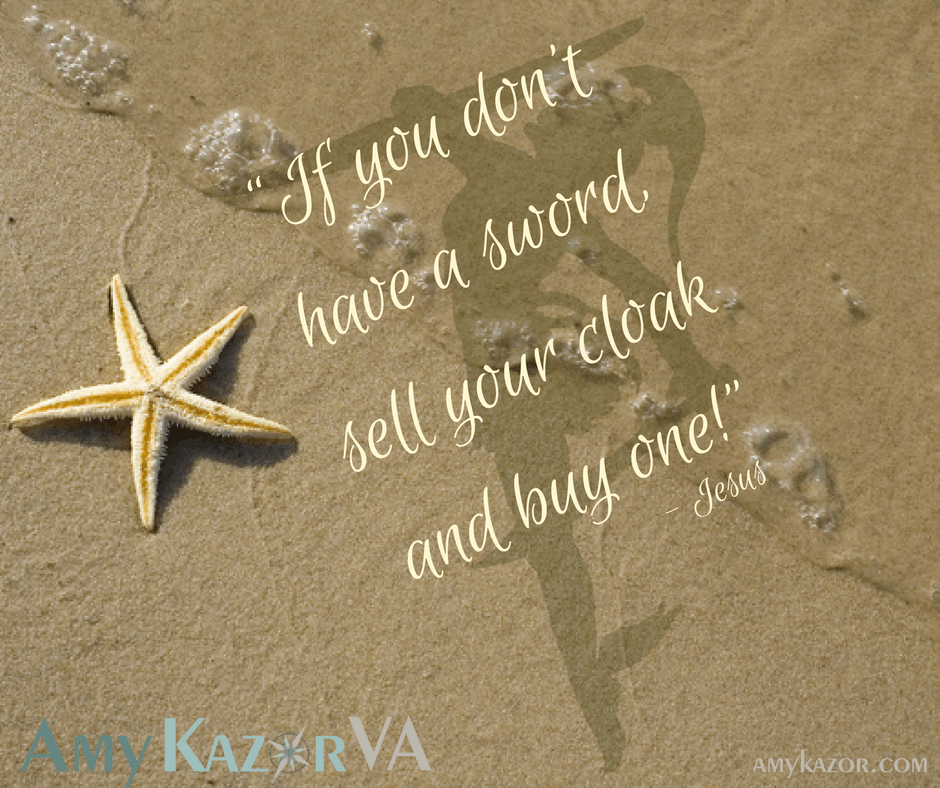 I believe that this is the time for women to arm themselves. Figuratively and metaphorically. We are the targets of evil – prejudice, abuse, gendercide, and sex trafficking. The enemy is seeking to disarm women on every level. Lisa writes that these attacks on women speak more to who we are meant to be in the future than to who we have been in the past. The battle is sure, and we must fight it. It is time for us to be who God created us to be and stand.
Lisa wants us each to be equipped for this battle we face so that we can be not just fighters, but warriors – not victims of deception. Our enemy works "hard to distract you, so you will never give birth to God's plan for your life."
Before Christmas, I read Joanna Weaver's book Having a Mary Heart in a Martha World , because I am such a Martha . Both authors share similar descriptions of the tactics of the enemy. Joanna Weaver coins them as the "Deadly D's". Her list for how the enemy holds us back include Discourage, Doubt, and Distract. Through Lisa Bevere's description, we can add Divide, Diminish, and Destroy.
These are six very "Deadly D's!" And, as you move through them they increase in intensity. While I can be discouraged moment by moment, that discouragement can grow quickly into doubt if I am not guarding myself. When those feelings aren't brought before God, they can not only distract me, but diminish my place in my world and work, destroy relationships, and divide me from the purpose God has intended for my life.
Wow.
While learning more about the author, Lisa Bevere, I came upon a little quiz on her website, "What Lioness Are You?"
It describes how we have been fashioned and formed to function within the body of Christ with a specific purpose, and tests our strategic contribution to our role there (within the "pride").
It was a fun little test that told me more about me. I got the highest scores (tied) in P and L. This was not surprising… and I decided to add it to my personality page.
Leader: As the lioness is valuable to her pride, so are you as a leader to your family, church, or business. You are a woman of vision, able to see the big picture and how and where each person most effectively fits. You are a strategist and planner. You willingly work under Godly authority and easily lead those you have authority over. You are a Deborah.
Protector: As a woman, you, like the lioness, are a fierce protector of your home, your children, and those you care about. You watch over them. You "looketh well in the ways of your household" (Proverbs 31) and stand guard… an Esther destined to protect those you love.
I have studied Esther extensively… but never Deborah… so that comes now. And I think it is time to read Lioness Arising and Without Rival next! Thank you, Lisa!
More to arm myself with in the battle against the "Deadly D's" Discourage, Doubt, Distract, Divide, Diminish, and Destroy. Another arrow in my quiver… as our struggle is not against people. We are to take everything the Master has set out for us, well-made weapons of the best materials and put them to use so we will be able to stand up to everything the Devil and his "Deadly D's" throw our way. (Ephesians 6:12)
If you take the quiz at https://messengerinternational.org/e/what-lioness-are-you/ I would love to hear where you learn you hold your place in the pride! And, if you are willing, please share an arrow you have in your quiver as we fight together.