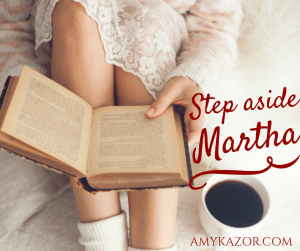 Martha, Martha.
Luke 10: 38-42: As Jesus and his disciples were on their way, he came to a village where a woman named Martha opened her home to him. She had a sister called Mary, who sat at the Lord's feet listening to what he said. But Martha was distracted by all the preparations that had to be made. She came to him and asked, "Lord, don't you care that my sister has left me to do the work by myself? Tell her to help me!"
"Martha, Martha," the Lord answered, "you are worried and upset about many things, but few things are needed—or indeed only one. Mary has chosen what is better, and it will not be taken away from her."
Hey, I am a "get it done girl". In this story I get the image of a house busy with people engaged in numerous conversations. Martha is running about trying to figure out how everybody is going to get fed and coordinating the logistics of cooking for all the people. The most pressing need in Martha's eyes is that of preparing a meal for Jesus and His disciples.
Mary saw this situation differently. She chose to listen to the wisdom of Jesus, her Savior, while she had the opportunity.
Sometimes I just forget how big our God is and I run around "all Martha" trying to make everything just right when all we need to do is just trust in the Lord like Mary.
So, tell me, how is your heart?
I have to work at keeping Christmas alive in my heart while surrounded with my business, busy-ness, and my to-do list items. Don't you? Am I really all alone in this?
Here are the some of the ways I work on keeping my heart right at Christmas:
Carols. Pandora has a Gregorian Holiday Radio. Love it. When I can (and no one but God is listening) I sing carols out loud. When I decorate I do it even if Chris is listening. I am not Carrie Underwood, but he survives.
Candles. For me, having an advent wreath would be another to-do. We don't have kids, so it would really just be for me. In my perfect vision, we would all gather around the wreath each night, light the candles, and say our prayers. I have exchanged the wreath for simple candles around the house. And, most nights, I do go around the house during the holidays and light my candles and say my prayers.
Calendars. You know me and calendaring. Of course I do an advent calendar, too! I have the Jacquie Lawson Victorian Advent Calendar on my computer and I enjoy it each and every day.
Community. This year I am helping prepare and serve dinner for veterans at our American Legion post. Each year we also do angel gifts and meals for the veterans in need in our community so that they are able to have a celebration at home with their own loved ones.
Nativities. I have four of them and as I set them up I sit with no room at the inn, the manger, the cattle lowing, the stars in the sky. It often leads me out into the cold on a starry night, gazing upward and inward all at once.
Ornaments. With a 12/17 birthday, I received a lot of ornament gifts throughout the years. You know what? Many of them are the only gifts I still have, let alone treasure. Each one that is hung on a bough has a memory. I savor this time and reflect.
Cards. I love creating and sending a card each year, but more than that I love opening the mailbox each day to see what news we have from those we love around the world. Send us a card. Drop us a line. We love pictures and hearing all your news.
So, I am off to write, do my devotional, pray a bit, then crank up Gregorian Holiday radio, drink some bullet proof cocoa, and decorate a wreath in my advent calendar app… before getting to work. I have the food ordered, hoping that will keep Martha at bay.
You?
I would love to hear how you keep the Christmas spirit alive in your heart throughout the hustle and bustle. Would you tell me about it here?