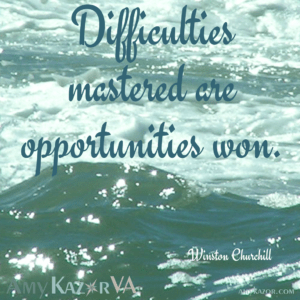 Continuing education is a powerful tool for any of us, but especially for virtual assistants. Through it, we reveal our personal strength, determination, and perseverance. It provides us with valuable tools and skills that benefit and enrich our lives.
In the words of Winston Churchill, "Difficulties mastered are opportunities won."
Are you considering continuing your education? If you are, I hope the following questions and plan will serve as a helpful guide:
Is the timing right for me?
Life is a journey made up of different stages. It demands different things from us at various times. Considering continued education requires honest contemplation.
Can I manage the stress of balancing many things at once?
Do I have the time resources to attend class, read and study?
Can I still be productive in other areas?
Will there still be time for family?
What things might I have to give up to devote myself?
Is more education required to meet my professional goals?
For some entrepreneurs, more education may be necessary to advance in our business, to obtain a particular certification, or to bring more value to our clients. It's an important part of my business, and I devote between 100-125 hours a year to advancing myself. Each of our needs may be different, so we'll want to determine our own specifics.
Why do I want to learn more?
Creating any continuing education plan without nailing down our reasons for learning can lead to a very unfulfilling experience. The people that achieve the most learning successes are the ones who are passionate about what they're doing, and they have a specific plan. Some reasons might include:
Improve discipline
Increase earning potential
Increase business network
Increase knowledge and confidence
Help gain a competitive edge
Increase qualifications
Creating Your Continued Education Plan
After being honest about our time and the reasons we have for continuing your education (and we still wish to proceed), we need a plan.
Decide on a financial strategy
What is my budget for learning new things? Do the courses I wish to take fit reasonably within that budget or do I need to create resources? I first determine what I am willing to spend to further my learning and personal development, and how I will spend it.
Pick the right programs
The program I choose will depend entirely on the outcomes I wish to achieve. There are many learning opportunities specifically designed for entrepreneurs and many designed specifically for coaches, service businesses, virtual assistants, etc. Part of planning my continuing education entails narrowing down the list of potential programs.
Establish a support system
A smaller, online course may not require me to arrange for support. However, a bigger program (like my recently completed Project Management Professional (PMP)® course of 65 hours) will require more time than is available without securing some support or allocating additional resources of time. With a full virtual assistance practice, I had to make arrangements to complete my coursework outside of my regular business day. Increasing my hours in my office required some additional support from my husband, as it impeded on our time together. It also required me to hand over a few more tasks to my virtual assistant so that I could remain focused on my clients and my learning. I also worked with my coach in determining whether or not I would take the next step and sit for the PMP exam for an actual certification at the end of the course.
If we're trying to advance our development while working our businesses and maintaining our normal family lives, then having these support systems are critical.
Do I have people in my life that will be there for me? A spouse, family, friends, or assistant?
Have I discussed my plans with my business coach?
Do I have someone to help me?
What needs to shift to make this possible?
Incorporate a variety of learning opportunities
New knowledge and skills are available to us through many different mediums. Even while we complete more formal education programs, we can be more active in asking questions, seeking mentors, and teaching others (I learn so much with each new mentor and intern I host). Books can also be a wonderful way to do this – knowledge literally at your fingertips. Audio books and podcasts also provide a way to learn on the go. The possibilities are endless. Keeping my eyes and ears open to the opportunities around me helps me to advance myself.
So, are you working on your continuing education plan? If you're afraid of getting started, that's completely understandable. The thought of having to balance so many things at once can make you doubt whether it's really worth it. Your best bet is to map out a plan and consider your options. Be honest with yourself. Does the opportunity outweigh the sacrifices? Sometimes it will and sometimes it won't.