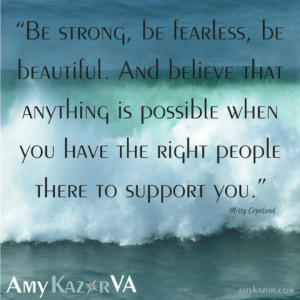 What or who do you think of when you hear the word, "support"? Support can be many things: emotional, financial, physical, mental, business, personal, etc. However, 'finance' is often what comes to mind when people hear "support." Emotional support might be second to come to mind, depending on your current state. I have a therapy dog named Finlay, who provides a little emotional support to patients when he does his therapy work. But, that isn't what is on my mind today. I'd like to talk about the support I provide to the solopreneurs I serve and the support I receive from my own Virtual Assistant.
Project management, planning and strategizing with clients is something that I've always enjoyed. I honestly feel that I offer both business and emotional support through these activities. Clients gain peace of mind through the nurturing work I provide, which can benefit them in many ways, one of which is emotional. The trust levels we develop as a team provides a dependable support system my clients can find comfort in every day. Helping clients develop a strategic planning process includes: identifying the business environment, establishing the focus, determining our core players and required projects and developing our milestones. Each step of this process hinges upon that strong support system.
The tasks that virtual assistants perform vary significantly. Among the strategic and project planning that takes place with my clients, I've made a list of other ways virtual assistants help to improve a business' daily operations.
Online Research – Common requests for online research include: finding information, exploring new products, vetting business contacts, etc.
Database entries – Entering new business card information and updating information for existing contacts are some other tasks virtual assistants manage. The objective is to keep data as current as possible.
Data Presentation – For the busy entrepreneur, having a virtual assistant turn raw data into a clear PowerPoint or summarizing findings in a Word document is a huge time saver; this reduces the work involved in prepping for meetings considerably.
Managing email – Virtual assistants can save some time by filtering the most relevant emails, and then responding to the rest on your behalf. Having email correspondence go through specific channels can also cut down the workflow for busy entrepreneurs allowing them greater focus time.
Scheduling – Through the use of scheduling tools (my tried-and-true calendaring process for example), virtual assistants manage the calendars of clients. The tasks can range from scheduling appointments to event planning.
This can also include posting your blogs and social media content, out-of-office auto-responders in email, and calling doctors, vets, and even hair and nail salons to schedule personal and pet care. I have been blessed to have my own VA assist me with tasks like this. She even scheduled today's post for me after I wrote it!
Industry Knowledge Prep – With limited time, many business owners turn to virtual assistants for the work of keeping up with industry news. They then use the information gathered to update social media, keeping the conversation going with both current and potential customers.
Vendor and Resource Management – Need someone to wrangle with a service provider on something that needs correction or is past-due? How about upgrading an account, or arranging for additional users?
These are just a few of the things Virtual Assistant's do to provide a client with a support system. The loyal support I give as a virtual assistant extends beyond the improvements made to her business itself – the overall personal balance it instills is irreplaceable. This results in less worry and stress each day, too. While finding balance is not an easy task – whether it's business or personal – it's crucial for overall well-being, health and coping skills.
While virtual assistance support is simpler to identify, I've recently questioned what a healthy support system looks like in one's personal life. It's natural to seek love and support from friends and family, and it's important to make sure you're surrounding yourself with positive people. This may mean limiting your newsfeed in Facebook, especially around elections!  😀  I've discovered how important it is to find authentic friends; friends that support your goals and do what it takes to help you keep pushing forward. By instilling positivity in your life, you will attract the right people.
I am grateful for the support of my husband, dog (yes, he works hard at it… his head is on my lap right now), coach, mentors, virtual assistant, bookkeeper, accountant, attorney, friends, and family!
In the words of the beautiful and graceful ballerina, Misty Copeland, "Be strong, be fearless, be beautiful. And believe that anything is possible when you have the right people there to support you."
How are you supported in business and life? Please share with me what brings you balance, peace, and emotional well-being.