There are a few things I have learned as a result of my training at AssistU, and one of them is to have a strong, reliable support team. Every service business needs one. My own VA, accountant, attorney, insurance agent, IT specialist, and business coach are at the core of that team. My amazing business coach, Anastacia Brice, has been foundational in helping me reach each and every intention I have set for my business.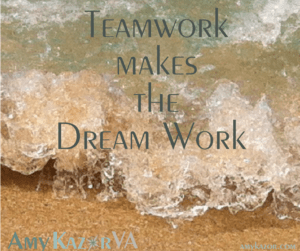 Two weeks a month, I set aside an hour or so to prepare for our coaching call. Sometimes it takes more out of me than others, it depends on what we are tackling and what is going on in my life and my practice. We generally talk the first two weeks of each month, on Wednesdays, for under an hour. the call prep I spend time on is sent to her in advance, so she can also prepare for our time together… and this makes us so productive on the phone.
Sometimes we talk about my work as a Senior VA with my intern, sometimes it is regarding my role as a mentor, or as a VA with a VA, but most often it is on the work I am doing in my practice, marketing, boundaries, standards, processes, and intentions.
Anastacia doesn't share my walk with Christ. She does, however, give me feedback on what I am doing from a great perspective and a place of love that comes only from God. She's tough when she needs to be tough, asks the hard questions, and keeps me living my truth regardless of what that is and how much it differs from her own.
I honestly don't know where I would be in my career and life without her coaching. I don't believe I would have a VA practice anymore, I think I would have given up in 2012. I certainly wouldn't have been able to see what the time and effort I put in would return to me if I stuck it out. I have an amazing practice now, filled with clients I adore, work I love, and am able to help other new VAs in the process. It's sometimes so wonderful I can't believe it's my life.
So, I want to thank Anastacia for her amazing guidance and support, and for the friendship we have been developing as the years go by. I know we have grown close because we have each laid it on the line as we coached and worked together, we have been transparent and vulnerable and from that has grown a trust and respect that is truly remarkable. I am grateful for everything she brings to me, each and every day.
And, that is just one amazing person on my team! Sounds fantastic, right?
Who's on your team? Do you trust them completely? Are they the right fit to keep you moving forward and living in your truth? Are you able to own it?
I would love to hear about the people who help you be your very best, every day! Will you share your story with me here?