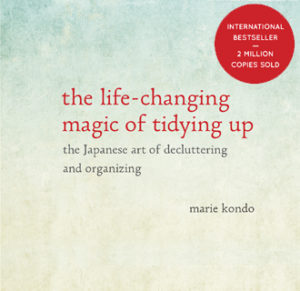 Last month, as a part of the AssistU Ultimate VA community book club, I read The Life-Changing Magic of Tidying Up: The Japanese Art of Decluttering and Organizing. This Marie Kondo has apparently set off a decluttering revolution around the world.
While I found a lot of the book a little campy for my taste, Kondo's overall plan to de-clutter made sense. And, having read the book following a major de-clutter and 700-mile move, I found I could still do some work in these areas. She recommends the following method.
Put your hands on everything you own then ask yourself if it sparks joy. If it doesn't, thank it for its service and get rid of it.
Put only the most joy-giving belongings where it's visible, accessible, and easy to use.
We followed a similar path as we prepped for our move – but not quite to this extent. I still have some work to do! Here is what I learned and what I still need to tackle:
Work in categories of belongings, not by room!
We did this when we packed to move. We pulled everything into the family room and purged from there. It was cathartic in a way, and it was so helpful to see EVERYTHING we had before we decided what we would and would not take. We dealt with all our clothes, all our books, all our CDs, for example, at one time.
Find joy in everything kept!
While working in categories really worked for us for our move, I can see now, after reading the book, that post-move I still brought things I didn't love or didn't find joy in – so I am revisiting this process now.
Now, this is also where things got campy for me. Kondo asks that we consider our clothing's feelings. For example, are shirts happy being squashed or socks happy being rolled. To me, clothes don't have feelings. I never really worked past this part. I could find joy in things, but not really bring myself to imagine they had "feelings".
Nostalgia is not our friend!
We set a timer when we did our memory boxes. We each had a huge plastic bin with a locking lid, and what we were going to take had to fit in that single bin. That helped me decide between one thing and another, and I moved quickly as I made the decisions. If it could be scanned and saved, I did that, if it couldn't, I really considered why I was saving it. This made the process better for me. The hardest items for me to consider, ironically, were the most recent trinkets I had been given as gifts. I had to choose, and I did so.
Purging feels good!
It did! While I didn't eliminate enough and will follow the process again over the course of the rainy summer weekend afternoons, it felt good to offload things. Energetically, I felt lifted and light. I am actually looking forward to the next round as I know I will end up with ONLY what I truly need and love and not what I think I may use "someday".
Don't hang, fold and store vertically!
Kondo doesn't live at my house. In our new home, my husband and I have exactly 3 3-foot drawers to share. Everything else is hanging space. I also wear a lot of long, flowy shirts and they look ridiculous no matter how well I fold them, so I did not follow this advice anywhere except in my 1.5 drawers. I felt so good about how things were stored there following this principal. I still can't get to a place where I am not rolling my socks… but maybe that will come when there is more space.
The basic KonMari vertical fold, which can be applied to everything from T-shirts to stockings, consists of making a long rectangle, and then folding from the bottom up into a little package.
Fall back in love with your belongings!
I guess this is the bottom line. When there is less clutter and when I am left with only the things I absolutely love, each of my belongings seems more beautiful and seem more alive. Getting dressed seems more fun! I know what my wardrobe is missing and I can find something I love to replace it. I can be pickier when I choose – and only purchase the things that truly bring me joy. Letting go of things is freeing. Decisions are easier to make. Cleaning is easier with less crap lying around. There is freedom in living more simply.
And, that decision making moves into other areas. Does that thing I have been asked to attend on the weekend NOT bring me joy? Maybe it needs a "no". Does this thing my client wants me to learn and do sound fun and exciting? Maybe I need to make time to learn it!
So, the book is worth the read. If you are drowning in clutter, it could help you find your way through it into a simpler and more joyful life.
If you have read the book, can you share your thoughts and results with me?