"Talitha Koum" – Little girl, get up!
On Good Friday, I spend the day in reflection and planning for my business. Last month, I woke and read my daily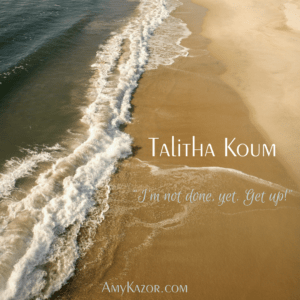 plan on my Bible app as I do most mornings. Mark 5 & 6 were part of the plan and the Spirit brought me the story of the desperate father begging Him to heal his very sick daughter. On the way, a woman is healed and the crowd is intense. By the time they reach the girl's home, she is dead.
In the message translation, there are harpists and people with casseroles. That's how far gone she is. Gathering, giving, mourning… it's all around in the house. But, Jesus tells them not to be afraid and to just believe. He touches the girl and says, "Talitha koum." Literally, "Little girl, get up." Or "Rise, little girl." And then, in that moment, she is fully alive.
I read on my Bible plan repeating "Talitha koum" to myself a few times, then I grabbed my coffee, finished my morning routine, and sat down with my computer to begin a series with Stasi Eldredge on Becoming Myself. It was my Good Friday morning plan before leading the Koinonia SIG at AssistU.
On the video, Stasi had us journal about our hopes for our time together and pray, then she said, "This morning our team gathered and prayed about our time together, and that this was the verse, the section, that God brought for you."  She opened her Bible and read from Matthew chapter 9.
"18-19 As he finished saying this, a local official appeared, bowed politely, and said, "My daughter has just now died. If you come and touch her, she will live." Jesus got up and went with him, His disciples following along.
20-22 Just then a woman who had hemorrhaged for twelve years slipped in from behind and lightly touched His robe. She was thinking to herself, "If I can just put a finger on His robe, I'll get well." Jesus turned—caught her at it. Then He reassured her: "Courage, daughter. You took a risk of faith, and now you're well." The woman was well from then on.
23-26 By now they had arrived at the house of the town official, and pushed their way through the gossips looking for a story and the neighbors bringing in casseroles. Jesus was abrupt: "Clear out! This girl isn't dead. She's sleeping." They told Him He didn't know what He was talking about. But when Jesus had gotten rid of the crowd, He went in, took the girl's hand, and pulled her to her feet—alive. The news was soon out, and traveled throughout the region."
There it was. Same story. Different gospel. My message on Good Friday. The day He gave all He called to me and told me to wake up. Yes, I was paying attention. I am not dead. I am asleep. And, Jesus wants to wake me up today.
It's as if He said, "Get up, little girl. It won't be easy. It will take time. But, I am here. Come with me. It will be worth it. You will see."
The night before, in Lisa Bevere's book, Without Rival, I had read about Abraham and Sarah and God's covenant to bring them a son. God tells Abraham about the plan and Abraham asks God to bless Ishmael. Lisa writes, "How often do we do the same thing? God tells us he is going to do a new and miraculous thing, and we waiver in unbelief. He says He is about to enlarge our lives, and we tell Him there is no need to go to that trouble… just bless what I have."
These two teachings collided in the morning hours of Good Friday. Unbelief. Sleep.
Today, as I move forward with some big things in my business, I lay it all at His feet. His plan, not mine.
He brings me the work, I do it.
He brings me the clients, I meet them where they are, from where I am, and we form a partnership.
He shows me where I am missing the point, and rights my course.
He shelters me when I have opened myself up to a storm and helps me find the way to do things better the next time.
He takes the lessons of my business and uses them to forge me into a better me and a better VA.
I just have to wake up. "Wake up, Amy." God has plans for me that exceed my own vision. Stop trying to control it by asking Him to bless what I already have, and open my arms up to what He has FOR me. Wake up to possibility. Wake up to His plan being better than my own. Step out in faith and take His hand for the future.
On Good Friday, I prayed to step into this. To stay awake. To trust Him more deeply and walk with Him more closely. In my relationships, in my planning, in my work, with each step – regardless of gravity (I will fall), regardless of mistakes (I am broken), He is there and He wants me to wake up to the promise He holds for me every second of every day.
One day, He will say to me, "Little girl, wake up" and I will finally be next to Him and able to see His plan, this tapestry He is weaving in my life that seems so disjointed and unrecognizable to me now… It will be beautiful and whole and of His design and not my own. Through every mistake and failure, He weaves grace and mercy. Until then He says to me, "I'm not done, yet. Get up."